Apartments and villa's for sale in Türkbükü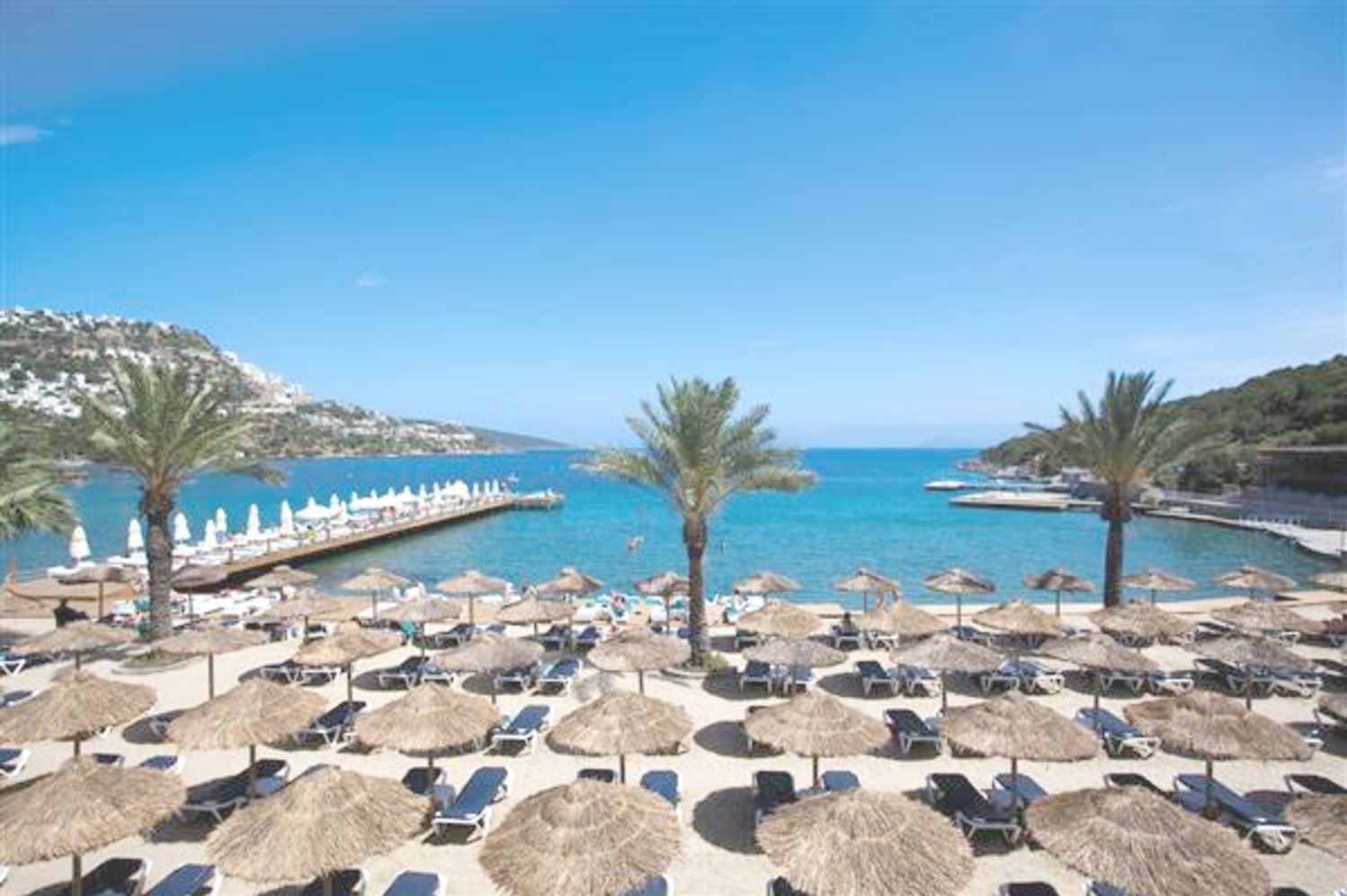 Bodrum is without any doubt the most sophisticated seaside resort in Turkey, and is sometimes considered by Turks as "Little Istanbul". Europeans would rather call Bodrum the "Saint-Tropez of Turkey".
What makes Bodrum so special?
Well, one of the reasons is that many well-to-do inhabitants of Istanbul – both domestic and international – celebrities have a property in Bodrum where they spend their summer holiday. Around the entire peninsula there are several exclusive marinas – such as the famous Yalıkavak Palmarina – where the largest and most expensive yachts in the world moor. And of course there are the very luxurious hotels, the magnificent villas and exclusive shops, restaurants and bars that can be found just about everywhere in and around Bodrum. All these things in their turn exert the necessary attraction to the prosperous fellow man and of course also to the jet-set and celebrities. And their presence of course also ensures even greater brand awareness; and we've come full circle.
Does this mean that Bodrum is just a meaningless "glamour and glitter" resort? Definitely not! Bodrum is just a fantastic place where everyone can relax and enjoy live to the fullest. One of the biggest advantages of Bodrum is – and Bodrum owes its nickname "Little Istanbul" to this fact – that you really can find everything in Bodrum, just like in Istanbul. The best restaurants, the most luxury hotels, the coolest bars, the greatest villas, the most famous shops etc. In addition, Bodrum also offers the best health care with (yes, it is getting monotonous ...) the best doctors in the best hospitals. In short: Bodrum is just "The place to be" and it is fantastic to be the proud owner of a villa or apartment in Bodrum.
After reading this short introduction, it won't surprise you that Bodrum is one of the most famous cities on the Aegean coast. Moreover, it is absolutely a beautiful region where there is plenty to see and to experience. Although Bodrum is a city with a great history, it owes its name recognition mainly to tourism. As a result, Bodrum has grown from a regional fishing village into a real town, but without losing its original charm. Interesting detail: Bodrum is also the favorite residence of many Turkish intellectuals and artists who reside here – whether permanently or temporary.
Climate and location of Bodrum
Bodrum is located on the Aegean coast and the climate is moderate Mediterranean. In summer, the average daytime temperature is around or slightly above 30 degrees and the seawater has a temperature of about 26 degrees. Both in summer and winter, the temperature in Bodrum is a few degrees less than at the Turkish Riviera, although in July and August this it is not really very noticeable during daytime. However, the nights in Bodrum are cooler and much more pleasant compared to Mediterranean cities like Alanya, Antalya and Side where the temperature barely drops below 30 degrees at night.
Sea and beaches at Bodrum
Tourists come from all over the world to the beaches of Bodrum and the clear Aegean Sea. Bodrum's twelve sand and pebble beaches are among the best in Turkey. The sandy beaches are generally artificially landscaped platforms with a thick layer of fine sand. The beaches of Bodrum have a good infrastructure and water sports facilities are abundant. Scuba divers come to Bodrum especially because of the amazingly clear seawater. For the non-divers among us, a boat trip to the Greek island of Kos is an absolute must. Only then will you realize how clear the water is when – at a depth of more than one hundred metres – you see the boulders and rocks lying on the sandy seabed just as if you could grab them ... Some luxury developments and exclusive villas have their own private beaches.
Places of interest in and around Bodrum
Since Bodrum was founded more than 25 centuries ago, this region has a famous archeological heritage, which is good news for lovers of history and culture. They can indulge themselves with visiting, for example, the Gate of Myndos, the Mausoleum of Halicarnassus, the Petrus Castle and the underwater museum, ... and of course Bodrum city itself, which is a beautiful town. By the way: the Mausoleum of Halicarnassus is one of the 7 wonders of the world from ancient times. One of the other 7 wonders of the world is also located in Turkey; namely the Temple of Artemis in Efes (Ephesus).
Especially the beautiful beaches of the Aegean Sea are a major attraction, and for the night owls among us there is the widely known sailing discotheque – with its particularly appropriate name – Catamaran and the famous Halicarnassus nightclub; where the world's best DJs spin their records during the summer season. Bodrum is also one of the favorite berths for private yacht owners. During the summer months, you should come early to claim a spot in the marina. And no, this is not because it is a small marina, on the contrary …
Pros and cons of Bodrum
The official number of inhabitants of Bodrum is approximately 150.000. During the summer months, the population grows significantly as a result of tourism, but this does not cause any nuisance at all; it just makes the city more lively. During the winter months Bodrum is a peaceful city where life is pleasant. Most restaurants, bars, shops and cultural sites are open all year round. Throughout the whole year, Bodrum is a safe city with very little crime. The development of tourism is being stimulated by the Turkish government, and this government is doing of course all that's possible to maintain the excellent reputation of Bodrum. Thanks to tourism, many inhabitants speak English, German or even French. Bodrum is a really pleasant city and because of the large number of intellectuals and artists who are living there it is also a very fashionable city. However, there is also a small downside to that ...
Cost of living in Bodrum
As mentioned above, Bodrum is a sophisticated place, and it will therefore come as no surprise to anyone that this has had an impact on the cost of living, which is unfortunately a bit higher than the average for the Turkish Riviera.
Transport in Bodrum
Bodrum is easily accessible: Milas - Bodrum International Airport - with direct charters and an increasing number of scheduled flights from most European cities is just 40 kilometres from the city centre.
The famous town of Milas is a 20-minute drive from Bodrum centre down the main road D330. Of course there is also public transport to and from the airport and an extensive network of Dolmuş (busses) connects Bodrum and the surrounding towns like Turgutreis, Yalıkavak, Ortakent, Gümüşlük, Gündoğan and so on with each other.
Education in Bodrum
There is an extensive network of Turkish public and private schools in Bodrum.
Real estate in Bodrum
RealProinvest offers you extensive listings in the Bodrum region, ranging from affordable apartments up to very luxury and exclusive villas with private pools, stunning views, separate maid quarters etc. Most of the apartments are located in low-rise residences and a lot of our villas in Bodrum have sea views. The price is determined by a number of factors such as good accessibility by car, whether or not on the peninsula, of course the size of the plot, ... and some Bodrum properties can be quite expensive. Exquisite mansions with a price tag of a few million Euros are no exception at the Bodrum peninsula.
Why invest in real estate in Bodrum?
The government's stimulation and the elitist status has resulted in a particularly high demand for high-level real estate in Bodrum, both domestically and foreign. This, of course, has an effect on the prices and they are as a result of the strong demand for villas and apartments in Bodrum constantly rising. Bodrum is becoming more and more an exclusive place and it is absolutely clear that prices will continue to rise in the future.